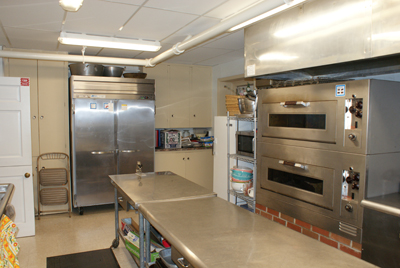 NOTICE: The kitchen is currently being updated and is not available. Look to "The Arrow" newsletter, this website, or call the church office at (413) 283-6958.
The Dining Room at Second Church can comfortably seat approximately 80 people. We have 6′ and 8′ tables as well as chairs.
Our kitchen is well equipped. We have two large ovens, a small oven, industrial refrigeration, freezers, and considerable stovetop space.  There's a double sink, an industrial-quality dishwasher, and lots of counter space. We also have all the implements necessary to stage a quality lunch or dinner (which is the only kind we'll serve!).  We have pots, pans, utensils, cutting boards, etc. necessary for making and serving food.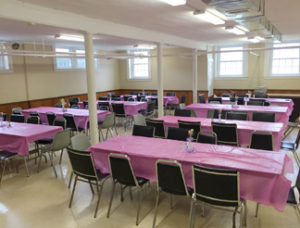 By law, all food served at Second Congregational Church is prepared and served in accordance with ServSafe guidelines.
Accessibility: the Dining Room and Kitchen of Second Congregational church is completely accessible by our full-service elevator.  Everyone is welcome!
Call us at (413) 283-6958 for more information.