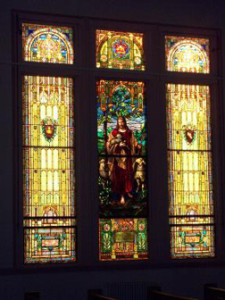 At Second Congregational Church, funerals and memorial services glorify God, honor and remember the loved one who has passed away, and offer hope to all, regardless of their circumstances. The Pastor, Music Director and staff work along side family and friends who are grieving to offer compassion, comfort and encouragement.
Our Pastor and Music Director are available to help lead the service, and we have a dining room that is available for receptions.
Second Congregational Church is fully wheelchair accessible. The entrance to the full-service elevator is directly from the parking lot and marked with appropriate signs. The elevator goes down to the lower level (Dining Room and wheelchair accessible restroom) and up to the upper level (Sanctuary).
There is no fee for the sanctuary for members who have died. It is available for non-members, inactive members and former members for a fee of $125. The dining room (including the kitchen) is available to members for $75 and non-members, inactive members and former members for $150.
Call the church office at 413-283-6958 if you need to schedule a funeral at the church. You can find our Use of Facilities Policy here.